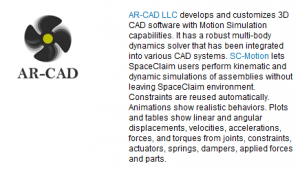 Today, folks at SpaceClaim (Rich Moore, VP, Business Development and Bernard Beulow, VP, Corporate Marketing) informed us that AR-CAD has been listed as a solution partner of SpaceClaim. Solution partners are the companies whose software as addin/plugin extend the basic functionality of SpaceClaim Engineer.
As per SpaceClaim website,
SpaceClaim has formed strategic solution partnerships with the following companies to enhance the company's 3D Direct Modeling software. These solution partners have bundled SpaceClaim Engineer with their software in order to to offer a specific solution to the market.
Do try out SC-Motion, our motion and dynamic simulation addin for SpaceClaim. For a brief overview of SC-Motion, go through our earlier blog post.